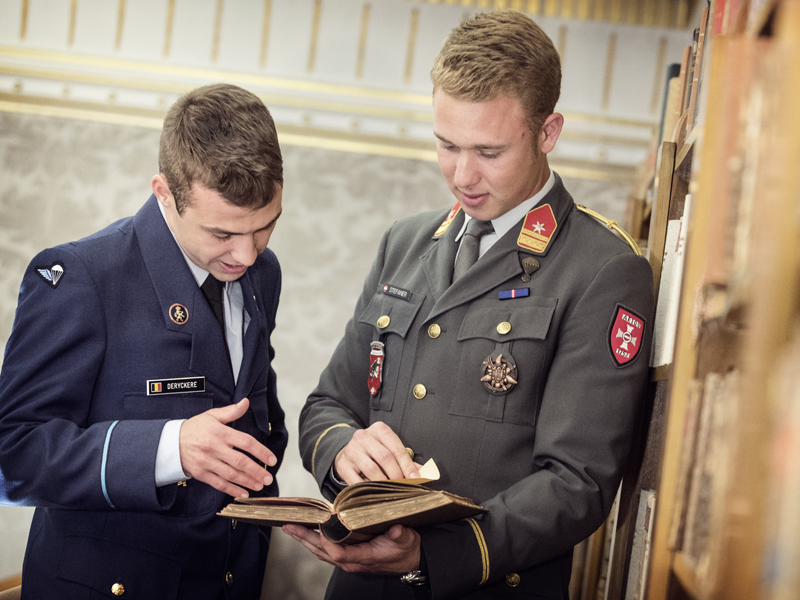 Executive summary
The Academy's Military Leadership Bachelor's Study Programme teaches those qualifications and skills that a military officer in the Austrian Armed Forces requires for his or her initial role in order to perform the execution of tasks, even under operating conditions in multinational joint operations. The same applies for managers of comparable civilian organisations, especially in the area of security and crisis management.
The programme is taught over a six-semester programme, which includes a national and an international practical placement for the total duration of 12 weeks. The focus of professional education at university level is the teaching of leadership skills, created as an interdisciplinary approach that includes the disciplines of military science in the strict sense, and supported with particular emphasis on knowledge of the social sciences and humanities.
A degree in Military Leadership from the Academy essentially paves the way for a professional career as a military officer with the Austrian Armed Forces. The possibility of a pertinent advanced master's degree, as well as a transition to the social sciences or humanities, opens up additional career opportunities, not only internally within the departments but also in the external field.
Training and qualifications profile
To be able to carry out the tasks in their initial role as a military officer of the Austrian Armed Forces, or in an analogous role in a civilian organization, the Academy's Military Leadership study programme aims to produce graduates who predominantly have advanced knowledge in the following areas:
:: Operationally-related subjects and methods,
:: Professional areas of specialisation,
:: Person and consciousness,
:: Society and social systems,
:: Specialist cross-section fields and
:: Military language: English.
Elements and Modules of the FH-Bachaelor Programme
Graduates of the bachelor's course are able to deepen their knowledge and skills both vertically and horizontally. As leaders, they can apply this knowledge in an ethically and morally responsible manner while complying with relevant standards when acting in the course of their professional activity and further develop this knowledge in their chosen field with initiative, thoughtfully and confidently, in full awareness of the relativity of the acquired knowledge. Our graduates have a critical understanding of key theories, principles and methods as well as some in-depth knowledge on the current state of research. Furthermore, graduates are expected to have advanced cognitive and practical skills, which demonstrate mastery of the subject, and the innovative capacity required to solve complex and unpredictable problems in a specialised field of work or study.
In particular, this concerns
:: exposure to pertinent military leadership methods and techniques,
including identifying their limits of application,
:: the use of structuring aids,
to make interdependencies and interfaces more comprehensible and
:: the efficient and effective use of suitable resources.
Necessary competencies
Expertise and methodological skills
Our graduates are able to think critically and analytically, to apply problem-solving techniques, to independently acquire new knowledge and (to a large extent) to carry out independent research or application-oriented projects. Their actions are characterised by strong organisational skills and a systematic and methodological approach.
Personal skills
The professional execution of our graduates is primarily characterised by a highly normative-ethical attitude, loyalty, discipline, personal responsibility and self-management.
Social communicative skills
They are able to motivate themselves and others, demonstrate excellent communication, conflict resolution and problem solving skills and can cooperate in groups and assume responsibility. They convincingly argue and plead expert positions and exchange information, ideas, problems and solutions with other experts at home and abroad.
Decision-making skills and responsibility
Their task execution is particularly characterised by the capacity to make decisions, initiative, optimism, resilience, determination and inspiration.
Professional fields of activity
Some time ago now, emphasis started to shift from traditional national defence to joint defence within the EU. At the moment, due to the current threat and risk situation, this is largely participation in multinational operations involving international crisis management and conflict prevention. This shift in emphasis has continued and has led to an equal status between domestic and foreign tasks. However, the structural evolution of the Austrian Armed Forces is mainly down to fulfilling its tasks abroad, because today's security challenges can no longer be solved by individual states and multinational, preventive action in crisis zones is inherent in more stabilisation and problem-solving potential, rather than a purely reactive defensive behaviour in the country's own territory. The Armed Forces are therefore taking their first steps towards a comprehensive and lasting change in their structure. This development extends the range of tasks that the Armed Forces are responsible for in terms of content and geography, and makes it clear that knowledge, skills and competencies that go beyond specific military ones are required to accomplish these tasks.
Resulting requirements in terms of content:
:: Accomplishing military tasks in the entire Petersberg spectrum
(from humanitarian aid to peace-keeping combat missions),
:: Combat in multinational joint operations and across all the Forces,
:: Potential deployment in all climates and in areas with different cultures,
:: Ability for cooperation between civilians and military.
This requires relevant expertise in core military subjects as well as in related scientific disciplines, such as law, political science, economics and philosophy, sociology, education and psychology. This requires methodological and analytical skills through which students are encouraged to independently assess and reason technical and interdisciplinary contexts. In addition, professional interdisciplinary qualifications are required, such as personal responsibility and independent problem-solving and decision-making skills, the ability to filter information by logical reasoning, to summarise and structure arguments, as well as the ability to continue to learn independently.
Targets for graduates of officer basic training
The officer, as a recognised military leader in a democratic and pluralistic social system, can lead a sub-unit in domestic and international missions in temperate climates, and provide training for such missions, and is able to represent a unit commander to a limited extent.
As a visible leader, the officer has
:: relevant expertise in the required professional disciplines,
:: extensive ethical and legal knowledge and awareness,
:: methodical and analytical knowledge necessary for independent evaluation and implementation of specialised and interdisciplinary contexts,
:: the capacity for independent problem solving and decision making,
:: the ability to filter, structure and summarise knowledge and information as well as self-reflection.
The officer also possesses the skills necessary to successfully accomplish their tasks in education and service and to be recognised as a leader in a democratic and pluralistic social system.
Beneficiaries of the study programme
Beneficiaries of the study programme are those agencies and military units throughout the country that have a regular need for young military officers. The diverse requirements of the intended work positions are met by the specialisation options as part of the professional fields of expertise. The graduates' professional execution is characterised by the fact that they remain capable of acting even under particular mental and physical stress and are aware of their special responsibility as a leader and as a legitimate bearer of the use of force.
Professional fields of expertise and military branches
The professional fields of activity comprise the full spectrum of different tasks required by agencies and military units of the Austrian Armed Forces. These are the combat forces, combat support troops, troops of order, command and mission support troops and comparable civilian organizations. This is taken into account by the opportunity to specialise in the following fields of expertise:
::·Political sciences specialisation
::·Educational sciences specialisation
::·Economics specialisation / Business administration
::·Economics specialisation / Computer science
Range of roles for graduates
Operational roles,
whose activities range from direct leadership action over subordinates in conjunction with targeted use of available resources through to optimal interaction with the environment and measures of compliance with operational readiness, especially in terms of personnel and materials.
Mission preparation roles,
whose activities are characterised by the creation of operational readiness in terms of personnel, materials and training and that are intended to increase confidence in action related to the readiness to act in dangerous situations.
Training roles,
whose activities range from the training of recruits through to the further and continued training for the cadre, where it is a question of using limited resources through didactic skills and contributing to the teaching of values to reinforce the organisational culture.
Operational service roles,
whose activities are characterised by the pursuit of conformity with standards, efficiency and effectiveness, and increasing motivation. Activities are repeatedly evaluated in the light of operational orientation.
Structural parameters of a similar scale apply for leaders in relevant civilian organizations.