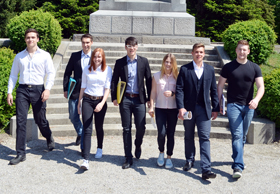 Your way to leadership!
The Institute for Officer Training at the Theresan Military Academy guarantees the necessary leadership capabilities for the Austrian Armed Forces. The officer training consists of the FH Bachelor Programme Military Leadership and the Career Officer Courses.
The training staff consists of experts from the fields of military and / or science and thus ensures the ideal relationship between theory and practice.
Through a high-quality training, we train our professional career applicants as best as possible to carry out management tasks in challenging national and international deployment scenarios.
Your way to civilian leadership!
The FH-Bachelor Programme Military Leadership is also open to civilian applicants.
Civilian executives, along with those who are candidates for professional qualifications, are given the necessary leadership and qualifications which enable them to work in the field of national security and crisis management and for use in an international organization.