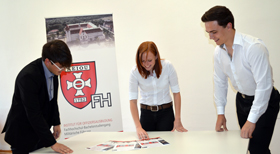 Open-door day:
An Open Day is organized annually at the Theresan Military Academy.

The "Open Day 2018" will be announced after determination.

In addition to this, we can look at the extraordinary infrastructure, the study offer, the applied leadership training, the numerous national and international co-operations as well as the research and development.
BeSt3

The FH-Bachelor Programme Military Leadership informs students in the context of the annual BeSt³ in Vienna, the trade fair for work, study and further education. Other BeSt³ events are also in Graz, Klagenfurt, Salzburg or Innsbruck.
>> Vocational Information Exhibition - BeSt3


Study advice

For a study consultation, please contact the Department for Studies, which can be reached by e-mail at josef.greiner@bmlvs.gv.at or by telephone at 050201 2029120.

For further information on the personal introduction of your potential career in the Austrian Armed Forces, please refer to the booklet called "Der Berufssoldat".