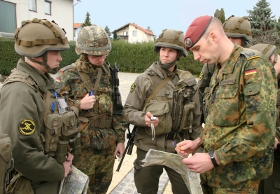 Since 2005 the Austrian Theresan Military Academy has been exchanging lecturers and students with other countries. The main purpose is to increase interoperability and intercultural competence so as to manage future challenges.
So far main effort for outgoing-activities has been the ITJ (International Training on the Job) for students to collect experiences as platoon leader or on equivalent level in 16 countries abroad.
The "European Initiative for the exchange of young officers inspired by ERASMUS" is a EU-programme which should increase young officers' exchange. Within this programme the Theresan Military Academy offers various modules and has taken over the lead for the Peace Support Operations Module within the EU.
Details about all incoming- and outgoing- activities you will find on the Website of the International Office.
Points of Contact (POC)
Col(GS) Mag. WIEDNER Karl-Heinz
Head of Military Leadership Division
Tel.: 0043 – 50201 – 20 – 29130
FAX: 0043 – 50201 – 20 – 17250


Col Dr. GELL Harald, MSc, MSD, MBA
Head International Office
Tel.: 0043 – 50201 – 20 – 29139
FAX: 0043 – 50201 – 20 – 17250
Cell-phone.: 0043 – 664 – 622 – 2161
Mjr LAMPERSBERGER Thomas, MSD
FH Lecturer & Chief Evaluator for International Cooperation
Tel.: 0043 – 50201 – 20 – 29138
FAX: 0043 – 50201 – 20 – 17250
Cell-phone.: 0043 – 664 – 622 – 2157
Mr. BERGER Kurt
Administrator for International Cooperation
Tel.: 0043 – 50201 – 20 – 29136
FAX: 0043 – 50201 – 20 – 17250
Cell-phone.: 0043 – 664 – 622 – 2139
WO HADEK Christian, MSc
Administrator Customs Affairs & ERASMUS Coordinator
Tel.: 0043 – 50201 – 20 – 29137
FAX: 0043 – 50201 – 20 – 17250
Cell-phone.: 0043 – 664 – 622 – 2158