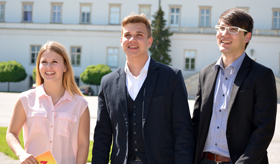 The Theresan Military Academy trains the future leaders for the Austrian Armed Forces. A part of this course, the FH-Bachelor Programme Military Leadership, is also open to other applicants.
In addition to those who are employed in the field of national security and crisis management, or for use in an international organization, they are given the necessary leadership competences and qualifications, together with the professional officers.
Employers of graduates of the FH-BaStg MilFü (excerpt):

Ministry of Defence and Sports, Ministry for the Interior, Federation of Industrialists, University of applied Sciences Wiener Neustadt, Austro Control, Siemens, Austrian Red Cross, etc.


The Theresan Leadership Model

The Theresan Leadership Model is based on the goal-oriented imparting of competences and abilities with a high degree of practical experience in the military core competences and above all in the scientific reference disciplines, such as law, political science and economics, as well as philosophy, sociology, pedagogy and psychology.

Through the targeted promotion of the mental and physical strength as well as the intercultural competence, management becomes possible.

Graduates of the FH-Bachelor Programme Military Leadership distinguish the ability to filter, summarize and structure information through logical thinking as well as a pronounced self-responsible and independent problem-solving and decision-making competence.

The Theresan Military Academy has traditionally been a unique training facility with the highest quality of education for professional officers and civilian executives. The FH-Bachelor Programme Military Leadership establishes itself as a central European training centre for executives, which is confirmed by the lively international participation in training sections.